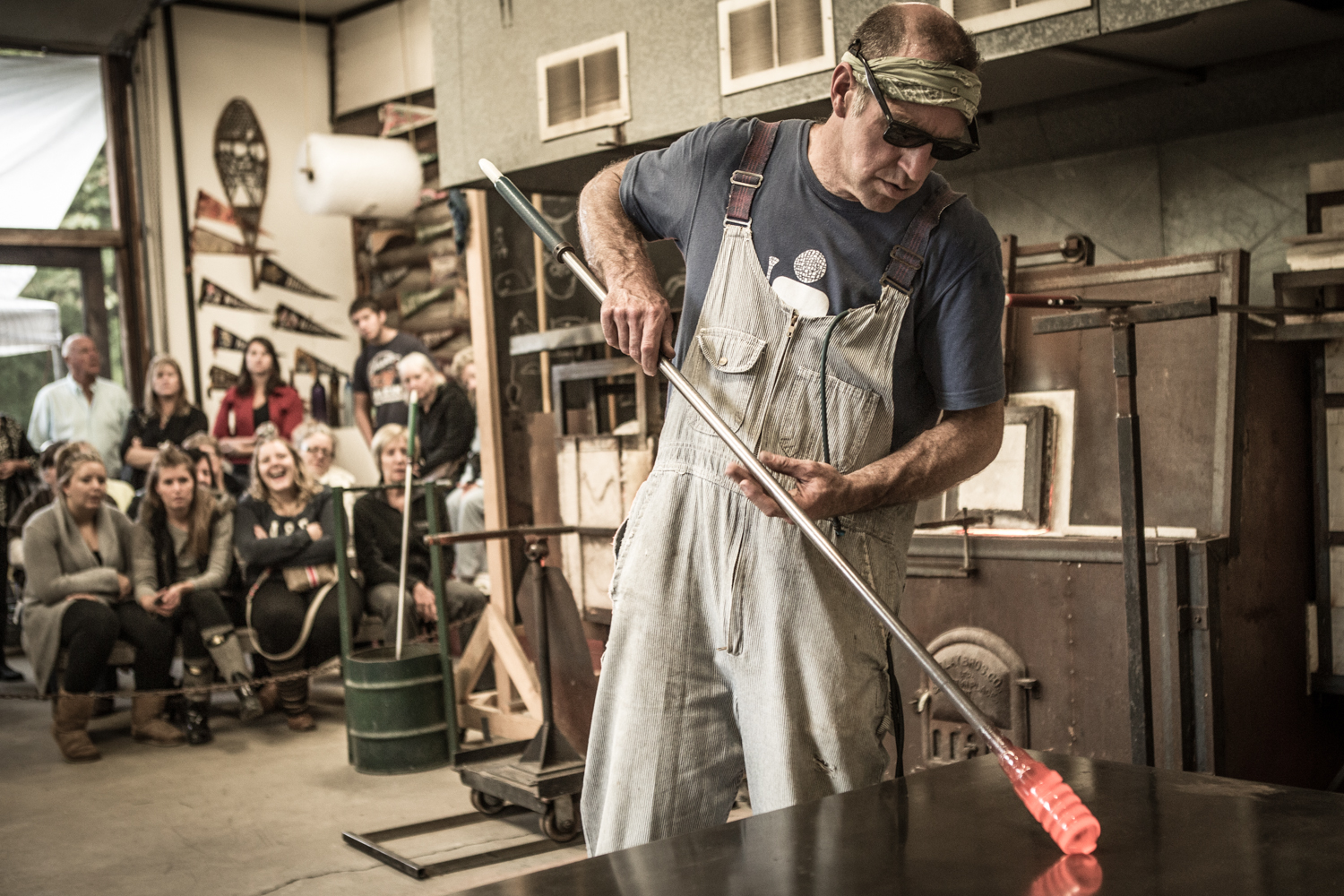 Working from his home on the edge of the Canadian Shield, he has found muse and foil in this transitional landscape of stone, wood and water, making work that accepts that we are not separate from the natural world. Here he maintains a practice as both sculptor and functional glass blower – often traversing the line between.
His studio practice has evolved around attempts to understand our place in a world where the only constant is change. Searching for a dynamic balance, or equilibrium, within the flow of our lives, the work examines how we live with each other and within the physical places in which we find ourselves.
Most of Copping's sculpture references water. "Water moves us; it connects us one to another, both physically and metaphorically. It both nourishes and threatens us. Water flows within us and through all life, with water we are in constant communion. It is in this relationship that my search for balance and connectedness within one's self, between people, and between people and place arises."
The Art Gallery of Peterborough has just launched a digital publication – https://settingafloat.agp.on.ca/ – which celebrates his 2016 exhibition 'Setting afloat on a river in spate'. His sculpture is included in the Montreal Museum of Fine Arts, the Musée national des beaux-arts du Québec, the Speed Museum, the Fine Art Collection of the Department of Global Affairs, the Claridge (Bronfman) Collection, and the City of Lommel (Belgium) Glass Collection. and has been acknowledged by the Corning Museum of Glass in their New Glass Review on nine occasions.
The functional blown glasswork also explores form, surface and light. Often combining the hard edge of carving with the fluid form of the blown glass in the search for an aesthetic balance. This work can be found in the permanent collections of the Royal Ontario Museum, 2 examples of which are part of the current exhibition 'Canadian Modern'. The Canadian Embassy in Japan, the Racine Art Museum, and the Claridge (Bronfman) Collection also hold examples of his blown glasswork. The water glass design, 'Forest Glass' was selected for use at the G8 Summit in Huntsville, Ontario in 2010 and in 2011 he was commissioned by Diageo to create a Crown Royal XR bottle commemorating the Duke & Duchess of Cambridge's Royal Tour of Canada. Copping's functional blown work was been honoured at the 2022 Toronto Outdoor Art Fair with the Best of Craft and Design; the tenth time his blown glasswork has garnered recognition from the TOAF.
He has also received much appreciated support for the development of his work from the Canada Council for the Arts and the Ontario Arts Council.
To contact please email bgcopping@icloud.com